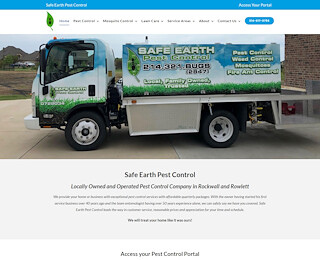 Rockwall TX lawn care provided by Safe Earth Pest Control is perfect for your weed and pest problems. We are a locally owned and operated company and use the safest products available to treat your home like it was ours. Call us today for a free inspection.  We will take the time and inspect your lawn, and grounds like you were family.
What are our service areas?
Because of our location, we can efficiently service the following areas in Texas:
Dallas
Garland
Rowlett
Forney
Mesquite
What is a lawn care treatment plan?
There are several steps to keeping your lawn healthy and beautiful. A lawn treatment plan will maintain or improve your yard. In the spring, we come in and fertilize your lawn. We look for problem areas and treat it for pre-emergent weed control at the same time. During the summer, we feed and do spot treatments for weed control, so your lawn doesn't get "burned." When fall arrives, we once again fertilize and treat for weeds. During December and January, we leave your yard alone unless there is a problem.
You may need insect control added to your lawn treatment plan, and we can help you with that. Typical insects we encounter in Texas are:
Fire Ants
Fire Ants sting and inject a poison into your system. They have been known to attack and kill small animals.
Grubs
Grubs are the larva of Beetles and eat the roots and organic matter in the soil.
Chinch bugs
If you have an infestation of Chinch bugs, they can make large patches of your lawn turn brown. They draw the moisture out of your grass blades dry and then inject a poison.
We have the right treatment for your problem. We also have an on-staff Entomologist that has been in pest control for 50 years. Safe Earth Pest Control provides the best Rockwall TX lawn care.
If you notice something out of place or just not right in your yard, have us take a look. Common lawn diseases:
Take-All-Patch, (creeping bentgrass)
Brown Patch
Augustine Decline
Your lawn is a living thing and can get sick. We can help you determine if you have a disease, an insect problem, or pest problem.
What type of pest control do we offer?
We also offer residential and commercial pest control. The most common types of pests we deal with are:
Rats
Mice
Termites
Ants
Cockroaches
Fleas
Mosquitoes
Bedbugs
We come into your home, inspect, remove all spider webs, treat all areas needed with a cloud of synthetic dust made from the chrysanthemum plant. It is safe for you and your pets. Outside, we spray and treat the perimeter of the home, all sidewalks, and plants and bushes near the house. If we have traps, we clean and service them. We provide many services, including Rockwall TX lawn care.
Commercial properties have the same pest problems as homes but on a much larger scale. We treat large buildings, restaurants, and shopping malls. In public buildings, there are strict health codes that must be maintained, and we can help.
Lawn Care in Rockwall Can Be Exhausting…
Call in the Professionals!