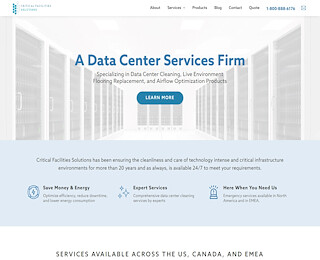 All data center administrators know that any minor contaminant will cause complete failure of the computer room. Many of the risks associated with data centers happen when there is an inconsistent or incompetent maintenance service.
The job will get messy when dealing with complex buildings with fragile systems and limited space. Today, we take a deep dive into all the things that could go into data center cleaning and how you can protect your facility with the help of experienced cleaners.
Everything You Need To Know About The Maintenance Of Data Room Centers
An effective maintenance strategy improves data performance and the longevity of your entire facility. Some of the essential things we do before and during the maintenance include the following:
Tests and visual inspections – Ongoing inspections to review the present operating parameters and make sure elements like water, air, and temperature are within the proper range.
We also test out various technologies like the UPS battery system to prevent system failure by ensuring it is free of dust and dirt.
Set up a data center cleaning – We keep the data room clean by identifying areas that need a more vigorous cleaning routine, such as the raised floor and the subfloor. We then strategize essential cleaning maintenance, including a regular switch up of filters, cleaning the cabinets, and sweeping under the floors.
Monitoring and reporting – The cleaning maintenance program is only effective when we can keep a track record of its effectiveness from the beginning. Documentation helps to identify changes and trends with different cleaning methods, so we know what works best for your data room.
The Best Cleaning Practices For Data Room Centers
Using The Right Tools For Sub Floor Computer Room Cleaning 
Cleaning a data room is nothing like cleaning any other room with computers. You want to make sure the team you choose has good tools and products and will not risk damaging your systems. Some of the equipment used to clean a raised floor computer room include:
Non-shedding mops
Unique dust fabric that will absorb dust
Non-ammoniated cleaners
A vacuum with highly efficient filters that have a HEPA certification
Chemicals that have an electrostatic discharge
Maintain Consistent Monitoring Of Server Room Dust Control
The air in the data room circulates throughout the day because the space is sealed out from the external world. You do not want to keep this air saturated with dust and debris because you are not filtering out the dust regularly. We can help you control the fresh air quality coming in and schedule several cleaning services for better overall air quality.
Data centers that have more foot traffic will need more frequent cleaning daily or weekly, while the less accessed areas can function excellent with weekly or daily cleaning.
The data center landscape will continue to evolve and expand with time. You could use a comprehensive solution that keeps up with all of these. Contact our server room cleaning companies online to arrange a consultation on your cleaning service or get an estimate for a specific task.